---
Been driving yourself a little mad trying to get over a recent breakup and desperately wanting to text your ex a sneaky "I miss you"?
Well, you're in luck: if you want to know how to win your ex back, we've got a bunch of handy tips for you *inserts evil laughter*.
If the Duke and Duchess of Cambridge have managed to find their way back to each other and Hollywood couples can stay married for over two decades, it can't be that hard, right?
1. Stop obsessing.
We can already see you sending them 3am drunk texts and stalking them all over social media.
STOP. Stop texting your ex in the middle of the night, wondering why the hell they liked that hot girl's/guy's photo on Instagram, or checking your phone 24/7 to see if they somehow regretted their decision and want to get back together with you.
Obsessing about the breakup and thoughts about rekindling with your ex is not only unhealthy for your mind and body, but also utterly diminishes your chances of actually getting back together with them.
2. Practice the no-contact rule.
The reasons for the no-contact rule are pretty simple.
Firstly, it gives both parties time to clear their heads and think about what they really want. Secondly, it gives your ex time to actually start missing you.
Lastly, and most importantly – it gives you time to work on yourself and get ready for the ultimate glow up.
And by no contact, we really mean no contact at all – at least for the next month or two.
Repeat this mantra once a day: "No phone calls, no texts, no sliding into their DMs on social media, no "accidentally" bumping into them or their friends on the street."
3. Increase your value and self-worth.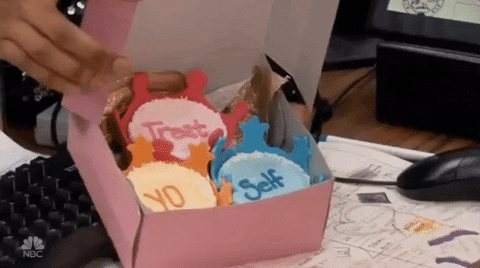 Do you love yourself enough? You need to understand what you're worth and internalise the fact that whoever doesn't want to be with you doesn't deserve your time and effort.
You can start by exploring a new hobby, catching up on your to-do list, or begin an exciting creative project that you never got round to doing while you were in a relationship.
Getting over the initial pain from a breakup can be tough, but indulging in some self care and self-improvement is going to exponentially increase your confidence and value, not just to yourself, but to everyone around you – including your ex.
So, go ahead – treat yo' self. You deserve it.
4. Don't be a Negative Nancy on social media.
It's mentally draining having to go through a heartbreak, but that's not a good enough reason to vent it all out on social media.
The whole world doesn't need to know about how "stupid" your ex was for leaving you, or how many tubs of ice cream you've inhaled ever since the breakup – and honestly, they don't care.
If you're serious about wanting to win your ex back, the last thing you should be doing is airing all your grievances out on social media. Doing so will only assure them that they've made the right decision to break up with a "crazy ex" (yes, that's you).
5. Don't be needy.
Being overly needy is one of the most unattractive traits any guy or girl can have.
Seeking their attention only reeks of desperation and is a one-way ticket for your ex to Never-coming-back-land.
Constantly texting/calling them to tell them how much you love them or that you will do anything to get them back will only push your ex further away – nobody likes feeling trapped and smothered in a relationship.
This brings us back to the no-contact rule: don't give him any attention, forget about throwing pity parties, and don't even bother trying to make him jealous.
Show yourself enough self-respect so that your ex can do the same.
6. Go out and have fun!
You're single (for now), so enjoy it while it lasts!
It's okay to take some time off to mourn the breakup, but don't let that stop you from living your life. Spend your time reconnecting with friends and loved ones whom you may have neglected while you were in a relationship.
Learn to have a good time alone without your ex (yes, it's possible). This is the perfect time to rebuild your confidence and identity, and to focus on important relationships with the people around you. Get a new hairdo, get in shape, and get your mind off your ex for a bit – everyone around you (including your ex) will notice the difference.
7. Only reach out when you are 100% ready.
Getting back with your ex will mean being self-aware and self-critical enough to know what went wrong.
Before you proceed to reach out to them, you need to thoroughly assess the relationship. Reflect on the deeper underlying reasons for the breakup and think carefully about whether you should even get back together with your ex.
There's a huge difference between a fear of loneliness and loving someone.
And if the reason for the breakup was cheating, major differences in core values and beliefs, or abuse – you know you deserve better.
Should you decide to get back together with your ex, know that things are going to have to change for the better. Otherwise, the relationship will only end up crumbling down the way it did the first time.
8. When you do meet, keep things super casual.
It's going to be tempting to rush back into familiar habits like holding hands, sending sweet texts and going on super romantic dates – but you're going to want to keep things casual.
When you meet your ex for the first time after breaking up, don't refer to it as a "date".
Instead, head out for a casual brunch or invite them to an event that you think they'll enjoy – the point is not to put any pressure on both parties and to minimise any awkwardness if things don't end up working out.
Take the time to catch up with them and give them time to get to know the new you.
Research shows that a strong friendship matters more for a couple's relationship satisfaction than a handful of other considerations, including marriage. According to the data, the happiest couples all said their significant other was their closest friend.
And even if the both of you decide to end up parting ways, know that you came out of the relationship becoming a more confident, beautiful, and better you – whose life doesn't revolve around someone else's.
Have more tips to share on how to win your ex back?